A super easy, no-bake treat you can make in the microwave and impress your friends and family! These white chocolate peanut butter cups are so simple, you might have everything on hand already! I love the combination of white chocolate and peanut butter, but these can easily be made with milk chocolate, semi-sweet chocolate or even decadent dark chocolate! I used my mini muffin pan, but you can use a regular size muffin pan too. 
Easy White Chocolate Peanut Butter Cups
by Melissa at No. 2 Pencil
Makes about 18 peanut butter cups
1 stick of butter
1/2 cup of peanut butter (smooth or creamy depending on your preference)
1/2 teaspoon of vanilla extract
1 cup of powdered sugar
1 bag (about 2 cups) of white chocolate chips (I used Ghirardelli Classic White Chips)
Line a mini muffin pan with mini cupcake liners and set aside.  Melt butter and peanut butter together in microwave, for about a minute. Add vanilla and stir together well. Then add powdered sugar and stir together and set aside.
Melt white chocolate chips in microwave following directions on back of bag for microwave melting.
Spoon peanut butter mixture into cupcake liners about 3/4 of the way full, then spoon melted white chocolate on top of peanut butter mixture. Smooth or swirl the white chocolate for a pretty finish on top.
Refrigerate until set, about an hour. Then store at room temperature for 2-3 days, if they last that long!
Look at you, you just made homemade candy!
If you like easy peanut buttery recipes (who doesn't?!), check out my Peanut Butter Cookie in a Cup! 
I'd love for you to keep up on my new posts and recipes by clicking on these cute buttons below, or follow me on Facebook and Twitter. You can also find me on Pinterest, that's my favorite place to hang out and I'd love to see you there!
Thanks for reading!
Melissa
Linking up with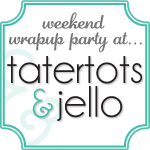 5 Easy Dinner Ideas for Busy Weeknights
My five FAVORITE recipes for busy families!
Quick to make
Light on your budget
Easy to clean-up
and...most important...absolutely DELICIOUS