These mini pizzas are simple, and so delicious. I started making these pizzas a few years ago as way to skip the store bought pizza sauce, which I don't love. I used vine ripened tomatoes from the grocery store, but I can't wait to use the tomatoes from our garden this summer! 
Start with fresh whole wheat pizza dough, I get ours from Trader Joe's or the local grocery store, tomatoes, and fresh mozzarella cheese. Let your pizza dough rest at room temperature for about twenty minutes so it is easier to work with.
 Preheat your oven to 425 and cover a baking sheet with foil and a little bit of olive oil. Pinch off some of the pizza dough and shape them into small circles. This is fun for the kiddos too, they don't have to look perfect! Prick the dough with a fork a few times so it doesn't bubble up in the oven. 
I have found the best way to make homemade pizza is to par bake the crust, this gives the dough a chance to crisp up on the bottom and cook through without over cooking the pizza toppings. So before you add your toppings, sprinkle some more olive oil and a pinch of kosher salt on top of the pizza dough and bake them in the oven for 8-10 minutes. 
Carefully take them out of the oven and add a sliced tomato and a slice of cheese.
Return to the oven and let bake for around 5 minutes more, just until the cheese has melted.  
We had these for lunch today, and the kids loved them. They especially loved helping with the dough. I've also served these as appetizers at parties, and the adults go crazy for them as well.  They are absolutely gorgeous with yellow and green heirloom tomatoes!
You can keep up on new posts and recipes by clicking on these cute buttons below or follow me on Facebook or Twitter. You can also find me on Pinterest, that's my favorite place to hang out! I'd love to see you there!
Thank you for reading!
Melissa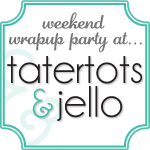 5 Easy Dinner Ideas for Busy Weeknights
My five FAVORITE recipes for busy families!
Quick to make
Light on your budget
Easy to clean-up
and...most important...absolutely DELICIOUS