This weekend, I got to spend a few hours working on this dresser makeover for our little girl's room. She's 2 1/2, and she has such a bright and bubbly personality, I thought she should have a big girl room to match! Here is the freshly painted and waxed dresser with a few of her room accessories. I just love how it turned out! 
Here is the before picture. If you can't tell from the picture, this is not the highest quality piece of furniture. It's made of MDF and laminate and those cute legs at the bottom are plastic!
This dresser was the perfect piece to use Annie Sloan Chalk paint, because it sticks to anything without having to use a primer. The color I used is called Provence, and is a really pretty light blue. But since this was for my little girl's room, I wanted to brighten up the color just a touch. I mixed a little bit of the turquoise latex paint I have in my paint stash, leftover from this project, and this project and I got the perfect color! 
I used a foam roller and rolled on three coats of paint, letting the dresser dry between coats. Chalk paint dry quickly, so it didn't take to long. Then I added a thin coat of Annie Sloan clear wax, followed by some of the dark wax to deepen the color of the dresser.  I'm so happy with the color! In this picture, you can really see a bit more of the vibrancy of the color. 
 I kept all the original hardware and painted it with the chalk paint as well. Then I used a little of my favorite Martha Stewart Black Coffee metallic glaze, and just rubbed it on the painted hardware using my finger. The perfect touch!
And here is the after picture again! It's so pretty in person and I think I even impressed my husband. He keeps saying, you wouldn't even know it was the same piece of junk:0) I really recommend using the foam roller if you can, it made this project go so quickly! I painted this small table using chalk paint and a brush and it took me much longer, and the coats did not go on as evenly. The top of this dresser is so smooth, it looks like it was sprayed on!
I'm a little sad to transition her room from a nursery, but excited for a fresh look. Sadie has a pretty little knit mermaid doll she loves, and it inspired me to go with a vintage mermaid theme for her room. I have a lot of fun DIY projects planned for her room, and I think she is going to love it. 
I'd love for you to keep up on my new posts and recipes by clicking on these cute buttons below, or follow me on Facebook and Twitter. You can also find me on Pinterest, that's my favorite place to hang out and I'd love to see you there!
Thank you for reading!
Melissa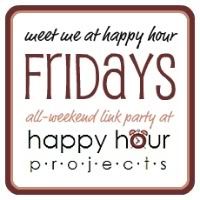 5 Easy Dinner Ideas for Busy Weeknights
My five FAVORITE recipes for busy families!
Quick to make
Light on your budget
Easy to clean-up
and...most important...absolutely DELICIOUS