Today, I grabbed a few pics of the turquoise pantry door I painted at my sister's house. I painted this right before I started the blog, so I just have the after pics. But just go ahead and imagine it as just a plain white door, ok? Actually, we initially painted it aqua, which was very pretty. But my sister really loved the color I used on the chippy turquoise dresser makeover, so I offered to bring my supplies over and get to work!
I dry brushed on two coats of Behr Aqua Waters, then lightly sanded so the aqua was coming through just a little. Then, I applied the Martha Stewart Black Coffee glaze with a heavy hand. I brushed the glaze on, then wiped it with a damp cloth until my sis and I liked the results! 
This is a super quick and easy project, and it brings a ton of color and personality into the space.
I'd love for you to keep up on my new posts and recipes by clicking on these cute buttons below, or follow me on Facebook and Twitter. You can also find me on Pinterest, that's my favorite place to hang out and I'd love to see you there!
Thanks for reading!
Melissa
PS –
My sister Sarah and I are design partner's in crime, so I'll be sharing projects we tackle at her house too!
Linking up with some of my faves!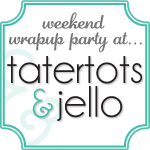 5 Easy Dinner Ideas for Busy Weeknights
My five FAVORITE recipes for busy families!
Quick to make
Light on your budget
Easy to clean-up
and...most important...absolutely DELICIOUS