So I got up early on Saturday morning, and headed to Walmart. I cruised the store and found some fun and affordable bamboo kitchen accessories. Perfect!
The Plaid craft supplies, and the surfaces I used are all available at Walmart. I really appreciate being able to shop at just one place for a project, especially when I have my kiddos with me!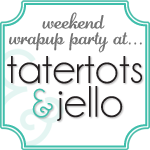 is where I linked this up!