I love to wear big earrings, and I really love to wear big rings! Especially, big colorful rings. So last week, I made these statement rings using Mod Podge, Mod Podge Podgeable Acrylic Shapes and Mod Podge Dimensional Magic. Seriously, these were so easy and fun. You can find the new Mod Podge Podgeable line that I used to make these rings at Michaels (yippee!), and you can visit Plaid to find out even more.
I was completely inspired by the biggest box of Mod Podge supplies ever, sent to me by Plaid. I am crazy about the retro look of Mod Podge, and the colorful packaging. Some of my favorites are the washable Mod Podge for Kids, the Antique Matte Mod Podge and the glitter Dimensional Magic. I knew right away I wanted to use the Dimensional Magic and some of the Podgeable Shapes to make rings inspired by the classic Mod Podge colors. 
Supplies needed:
Podgeable Acrylic Shapes
Mod Podge – in gloss finish
Mod Podge Dimensional Magic – I used both silver and gold glitter.
Podgeable Shape Templates
Colored Cardstock
Sharp Scissors
Nail File – fine 
Paint Brush
Pencil
E-6000 Glue
Adjustable Ring Blanks – I purchased mine on Etsy. 
Step 1: Find the template that matches your acrylic shape and lightly trace with pencil.
Step 2: Carefully cut out shape just inside of the pencil line.
Step 3: Brush acrylic shape and card stock with thin layer of Mod Podge; place card stock onto acrylic shape; then glue sides together.
Step 4: Brush thin layer of Mod Podge over top of card stock. Let dry for 20-30 minutes. Once the Mod Podge is dry, if you have any paper that is uneven or hanging off the acrylic shape, you can use the nail file to lightly smooth the edges. 
Step 5: Gently squeeze a layer of dimensional magic all over the top of the card stock. You will be surprised how easy it is to work with! 
The Dimensional Magic will be cloudy when wet, then will dry clear. This stuff is really, really cool. It dries so smooth and glossy!
Step 6: Once the Dimensional Magic is completely dry – I let mine sit over night – you can use the E-6000 to glue the acrylic shape to the ring blank. 
Now you have your own DIY fun and funky statement rings, made with Mod Podge! Let me model them for you! 
I only used a few of the pieces from my Podgeable Acrylic Shape pack, so I'm excited for my nieces to come over and make some necklaces and who knows what else from the rest! I know they are going to go crazy over these!
You can find more inspiration and projects here: 
Plaid Crafts on Pinterest: https://pinterest.com/plaidcrafts
Plaid on Facebook: https://www.facebook.com/InspiredByPlaid
Plaid on Twitter: https://twitter.com/plaidcrafts/
I wrote this post as part of a paid campaign with Plaid Crafts and Blueprint Social. The opinions in this post are my own.
You can keep up on new posts and recipes by clicking on these cute buttons below or follow me on Facebook or Twitter. You can also find me on Pinterest, that's my favorite place to hang out! I'd love to see you there!
Thank you for reading!
Melissa 
Check out the rest of the Mod Podge Projects from my friends: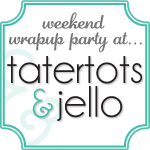 5 Easy Dinner Ideas for Busy Weeknights
My five FAVORITE recipes for busy families!
Quick to make
Light on your budget
Easy to clean-up
and...most important...absolutely DELICIOUS