Ok, I just can't help myself. It's another cookie in a cup recipe! This time, Sugar Cookie in a Cup. This one is so good. Try it out, along with Chocolate Chip Cookie in a Cup, and Peanut Butter Cookie in a Cup.  
Start with a tablespoon of butter. 
Heat in your microwave until melted, about 30 seconds.
Add two tablespoons of granulated white sugar, 1/4 teaspoon of vanilla and a pinch of kosher salt.
Stir together.
Add one egg yolk. Do not include the egg white, discard or save for a different recipe.
Stir in egg yolk.
Add three level tablespoons of all-purpose flour.
Stir in flour.
Sprinkle on pretty colored sugar, plain white sugar, or whatever you have handy. Microwave for about 45 seconds, depending on the strength of your microwave.
Serve warm. 
You just made a sugar cookie from scratch, in the microwave! Can you believe it? 
Sugar Cookie in a Cup
created by Melissa at No. 2 Pencil
1 Tablespoon of Butter
2 Tablespoon of Granulated White Sugar
1/4 Teaspoon of Pure Vanilla Extract
Small pinch of Kosher Salt
Yolk of one Egg
3 Tablespoons of All-Purpose Flour
Colored Sugar for sprinkling
Melt butter in microwave, then add sugar, vanilla and salt and stir together. Add one egg yolk and stir again. Add flour and stir a final time.  Sprinkle cookie dough with colored sugar, and heat in microwave for about 45 seconds. Start checking for doneness at 40 seconds.
Serve warm and enjoy!
Don't forget to try Chocolate Chip Cookie in a Cup and Peanut Butter Cookie in a Cup!
I'd love for you to keep up on my new posts and recipes by clicking on these cute buttons below, or follow me on Facebook and Twitter. You can also find me on Pinterest, that's my favorite place to hang out and I'd love to see you there!
Thanks for reading!
Melissa
Linking up with some of my faves!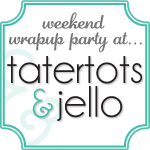 5 Easy Dinner Ideas for Busy Weeknights
My five FAVORITE recipes for busy families!
Quick to make
Light on your budget
Easy to clean-up
and...most important...absolutely DELICIOUS