Yep, you heard that right, I spray painted our front door. It went from beat up brown, to fabulous yellow. I used Krylon Bauhaus Gold, and it was super easy. Here is the before picture, what the front door looked like when we first moved in. It's hard to tell in the picture, but it was really beat up. I kinda just wanted to get a whole new door.
The original plan was to just touch up the door, I even contacted the company that built the home to get the paint colors. Then after talking to the Sherwin Williams expert, I decided I didn't want to spend $50 on supplies to repaint the whole door as they recommended. I didn't even like the color! I happened to have several cans of Bauhaus Gold I had been saving for another project, so I thought….what the hey? Let's give it a try.
So, we took the door down and removed the hardware and I went to town with the spray paint. I was careful to do smooth even strokes to get even coverage. It worked! 
Now this is just a temporary fix. The shutters in front of the house need to be painted, so those are on the to do list along with repainting the door (and the trim) with a true exterior paint. I'm staying with yellow though! It makes me happy every time I come home! I really would like to repaint the ENTIRE exterior of the house, it's like 50 different shades of brown! If the stucco looks a little funny in the pics, it's just because I was washing down the dust and cobwebs earlier today! 
How about this adorable mat? My sis and my Mom found it for me at one of our favorite shops, Home Arts in Cambria, CA. It's up cycled fishing rope!!!
A couple notes. While the color is smooth and even, the finish on the door is not perfect. At certain angles, you can see that some area are shiner than others, which happens a lot when you spray paint a smooth flat surface. I tried to lightly sand those area, and use a matte finishing spray to cover them, but it didn't really help. Our door needed to be repainted anyway, so anything was going to be an improvement and that doesn't bother me. I actually did this several months ago, and the spray paint is holding up beautifully. Nobody who sees it in person believes that it was spray painted!
I'd love for you to keep up on my new posts and recipes by clicking on these cute buttons below, or follow me on Facebook and Twitter. You can also find me on Pinterest, that's my favorite place to hang out and I'd love to see you there!
Thanks for reading!
Melissa
Linking up with some of my faves!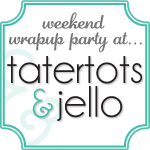 5 Easy Dinner Ideas for Busy Weeknights
My five FAVORITE recipes for busy families!
Quick to make
Light on your budget
Easy to clean-up
and...most important...absolutely DELICIOUS